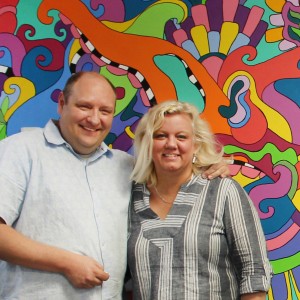 A Happy Vista is the colorful world of Artists Steve and Tonya Vistaunet.
Steve grew up in Newport Beach, California. As far back as he can remember, he has loved to draw. He says, "Drawing makes me happy. The perfect day for me during my youth, was to sit at my desk, play my favorite record and draw. And to be honest, that is still my perfect day!"
Steve is a graphic design professional with over 25 years of experience specializing in creative direction, brand management, and marketing. He has also been an adjunct faculty member at BYU for 8 years, and is currently in his 7th year as an adjunct faculty member at UVU in the Graphic Design department. When Steve's not designing or teaching, chances are good you'll catch him playing the piano, listening to music or playing with his 3 grandsons.
Tonya grew up all over the world, including years in Taiwan, New York, California, Texas, Arizona, and Utah. Her time spent in different cities has given her an appreciation and love for all kinds of art and creative endeavors.
Tonya loves to spend her time as a painter, seamstress, colorist, and overall doer of all things creative. She loves to read, hates to cook, and really enjoys time with her three grandsons!
They are the parents of three wonderful daughters and the grandparents of three amazing grandsons.
ART EXHIBITIONS
94th Annual Spring Salon  April 25, 2017 – July 7, 2017
Springville Museum of Art, Springville, Utah
• Are You Experienced? by Steve & Tonya Vistaunet (36" x 48" acrylic on panel)
"Wit & Whimsy: off the deep end" Art Exhibit  October 2017 – May 2018
Springville Museum of Art, Springville, Utah
• 10 art pieces by Steve & Tonya Vistaunet
Features the humorous, witty and whimsical artwork of 12 contemporary Utah artists including
Brian Kershisnik, Cassandra Barney, Wayne Kimball, Cindy Clark, and Gregory Abbott.
93rd Annual Spring Salon  April 16, 2017 – July 8, 2017
Springville Museum of Art, Springville, Utah
• A Happy Home by Steve & Tonya Vistaunet (36" x 48" acrylic on panel)
Spiritual and Religious Art Show 2016  October 19, 2016 – January 11, 2017
Springville Museum of Art, Springville, Utah
• Nourishment From God by Steve & Tonya Vistaunet (35" x 47" acrylic on panel)
• Not Today by Steve Vistaunet (18" x 24" mixed media on panel)
1st Annual Zion's Art Society Competition September 24, 2016 – October 15, 2016
Anthony's Fine Art, Salt Lake City, Utah
• The Path by Steve & Tonya Vistaunet (48" x 36" acrylic on panel)
• 85 piece show including art by: J. Kirk Richards, Laura Atkinson, Greg Olsen, Jeff Hein, Dennis Smith,
Howard Lyon, Walter Rane, Justin Wheatley, Paige Anderson, Mary Sauer, Casey Childs, and more
92nd Annual Spring Salon  April 20, 2016 – July 9, 2016
Springville Museum of Art, Springville, Utah
• Slow Down, You Move Too Fast by Steve & Tonya Vistaunet (36" x 36" acrylic on panel)
Restored: Art & The Mormon Temple  January 15, 2016 – March 16, 2016
Writ & Vision, Provo, Utah
• Shelter From the Storm by Steve & Tonya Vistaunet (18" x 18" acrylic on panel)
• Peace in our Restless World by Steve & Tonya Vistaunet (18" x 24" acrylic on panel)
•17 artist show including: Brian Kershisnik, J. Kirk Richards, Laura Atkinson, Caitlin Connolly,
Wulf Barsch, Justin Wheatley, Maddison Colvin Smith, David Chapman Lindsay
Spiritual and Religious Art Show 2015  November 18, 2015 – January 12, 2016
Springville Museum of Art, Springville, Utah
• The Path by Steve & Tonya Vistaunet (48" x 36" acrylic on panel)
• Church Notes by Steve Vistaunet (24" x 36" ink on paper)